Starline 5th Graders Celebrated N.O.V.A. Graduation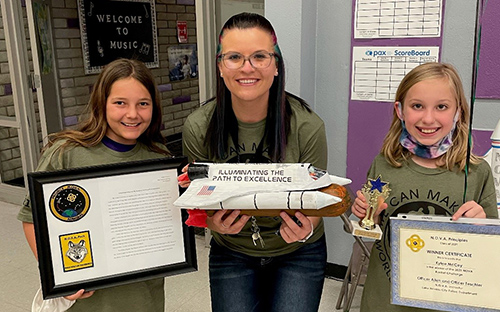 ---
Friday, March 5th, our 5th-grade students celebrated their N.O.V.A. Graduation. N.O.V.A. classes are taught each year to 5th-grade students throughout our community by school resource officers.
The mission of N.O.V.A. is: "Nurturing youth to seek out positive Opportunities, internalize good Values, and to accept Accountability for their choices in life."
Starline 5th graders celebrated with a pizza party and a special treat. As they went outside for an extended recess, they were handed fruit pops.
We are very proud of our students and how well they did with their N.O.V.A. essays and rockets this year. We had several winners.
Top Rocket Winner for the Entire School District: Kaylee McCoy

Starline Essay Winners: Macy Sautner, Jaqueline Luna, Keira Alvarado Pena, Genevieve Lytle

Starline Rocket Winners: Macy Sautner, Bylie Best, Brooklyn Hill, Gracie Jackson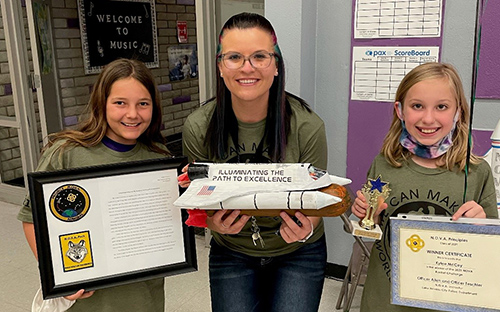 Macy Sautner, Ms. Wheeler, Kaylee McCoy

(left to right)
N.O.V.A. Constitution: My Roadmap to the Path of Excellence
Essay by: Macy Sautner
My roadmap shows the opportunity to be kind, to learn or grow, and to do my best. It is important to see things from other people's perspective and helping others allows me to do that. Anytime I get the chance for something new, even if it is scary or difficult, I should say yes, like speaking on the announcements, going to a new STEM camp, or running for Student Council. Giving my best is important because if not, I will never know my full potential. It is always better to try and fail, than not try at all and live wondering what could have been.
Trying is important, but I also need to avoid bad choices that might lead me down the wrong path. Choices like smoking or taking drugs can be harmful for myself and others. Smoking, alcohol, or drugs can do irreversible damage to my brain and body and also become addictive. Because my goal is to live a successful life, these are actions I must avoid as a lone wolf, especially because they don't match my values.
Most importantly on my roadmap, I value my education, family and committing to my goals. I value my education as the door to my future. I will work hard every day to get into a good college and become a skilled biologist. My family is my foundation and they have taught me that helping others is always the right thing to do. Because I have follow-through and commitment, I know I will be able to succeed.
The N.O.V.A. program has helped me learn how valuable decision-making is in the course of life. It has taught me how one tiny choice can either lead me on my path to excellence or lead me astray. It has taught me that the smallest decisions can lead to the biggest outcomes.